Free Wi-Fi in Sri Lanka.
Free Wi-Fi hotspots are available in many parts of Sri Lanka. In some place like Colombo International airport you can open your device and search for available Wi-Fi service providers and there you can find the free airport internet facility. Just connect and surf as much time as you want as there is no fees charged for it.
Likewise all the Sri Lankans visiting Colombo Fort Railway Station can connect to the Free Wi-Fi service and each of them will be required to feed with the password which they can obtain from the office over there. Also there will be a band width limit for each user applies under this free Wi-Fi service that is being provided by the Government to fill their election promise.
Free Wi-Fi hotspots are provided by the Srilanka Government all over the island at important places like railway stations, universities, libraries, bus stands and important worshipping places under this program.
Mean while Dialog provides paid Wi-Fi hotspots all over the island which you can use to connect to the internet using your hand held devices and the Smartphones other than their mobile 4G LTE service.
Also the data plan in Sri Lanka is very cheap when compared to the European and Americas. It is better for the tourist to change to local SIM card as it will save them lot money rather than use their roaming facility to make calls or to use their data plan. Special SIM packages are offered by the major carriers at the Colombo airport for around US$ 10.
Updates:
Sri Lanka Cellular SIM At Colombo Airport.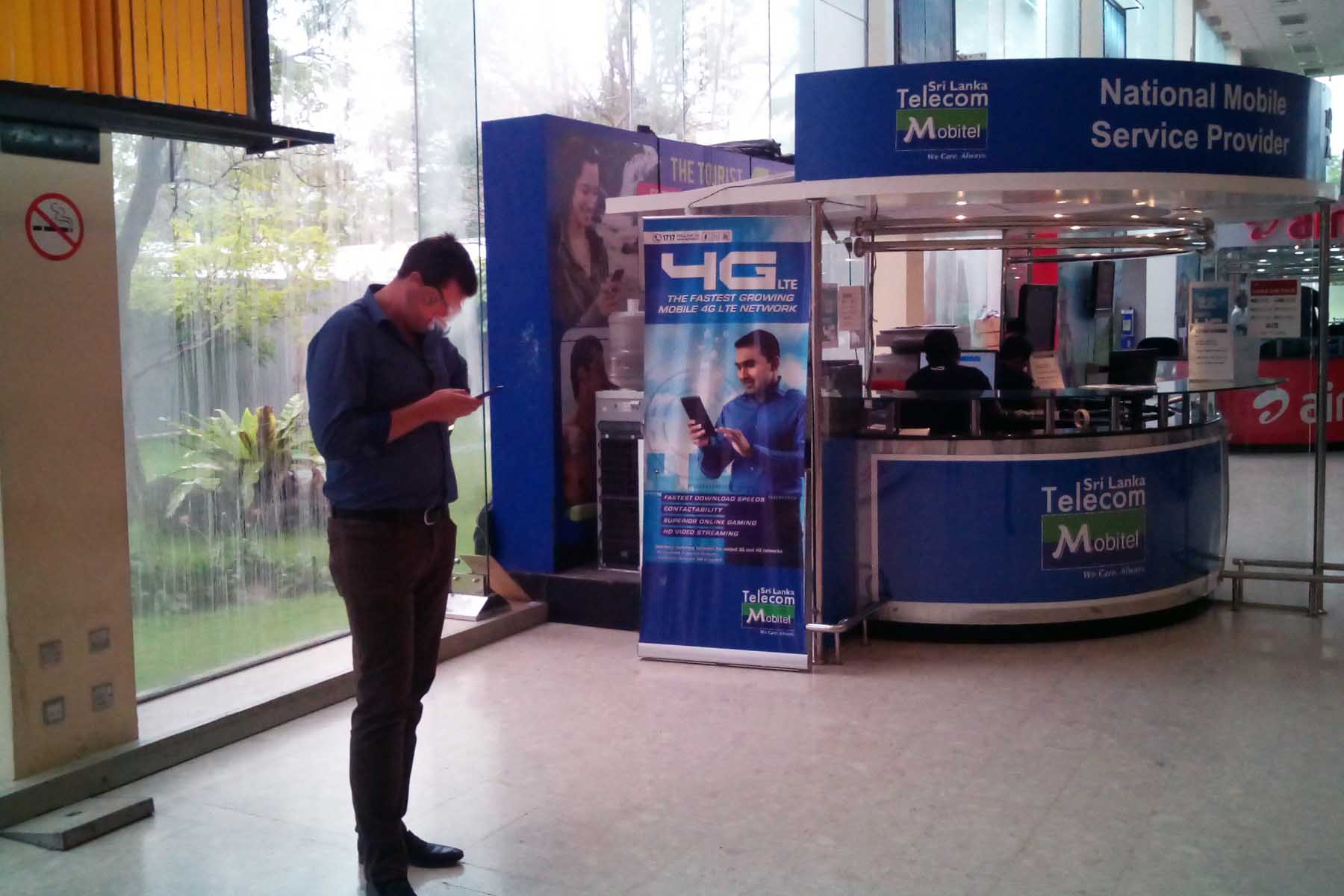 Sri Lanka SIM cards are available for your mobile phone at the arrival lounge at the Colombo Airport. This is good for the tourists and Sri Lanka people staying in other countries. Having a Sri Lanka SIM in your mobile phone is a good idea as it can reduce your phone bill during your stay over here. If you happened to use your overseas SIM through the roaming facility you may have a large phone bill when you return to your home country.
All you need is to provide your passport to make a photo copy of it and sign the contract. Pay US$10 and get your SIM card from any of the carrier sales center in the lounge. There is Dialog. Mobitel, Airtel and Hutch offices are located over there. For the US$ 10 you can buy the tourist SIM card that is normally valid for one month. If you are going to stay here for more than that period you can simply approach any of the offices in the town and can enable it.
You can re-load your account with re-load cards or through communication centres located around the street corners.
Sri Lanka offers 2G, 3G and 4G Connectivity. 3G and 4G networks are good for video calls. Always re-load call minutes and data plan seperately as using the call minutes fund for the data plan is expensive. The SIM is meant for your personal usage. It is against the law to use a SIM card registered under another person's name.