Sony 2GB Memory Stick for mobile phone.
Sony Memory Stick Micro 2GB gives place for more of your entertainment on your mobile phone. This will enable the user to store more music, digital entertainment when you are on the move.
2GB Memory Stick Micro ('M2') provides multimedia phones with more storage facility for ringtones, pictures, music and videos. The Memory stick is compatible with all Sony Ericsson mobile phones which have a memory stick slot.
For example: Sony Ericsson K810i mobile phone users can store and enjoy up to 2500 additional digital photos or 20 hours of digital videos on their mobile phone.Sony Ericsson W880 Walkman® phone can store 500 additional MP3 songs for play back with the M2 2GB.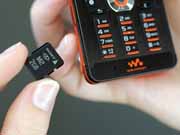 'M2' 2GB will be available from September 2007 as M2 Standard size and M2 Duo size adaptors, will provide users to transfer their personal data from their mobile phones to any Memory Stick PRO Standard and Memory Stick Duo compatible device.
Also Sony expected to launch a 4GB version of the Memory Stick Micro later this Year.