Low Rate Calls.
Free SMS and Free Calls are available from the following web site Lowratevoip.com. You have to join as member to download their application which will enable you to call many countries and your online friends free of charge.
Free SMS is available for the following countries fro members who are with the free days.
Argentina, Brazil, Bulgaria, Chile, Colombia, Denmark, Norway, Pakistan, Peru, Poland,
Serbia And Montenegro.
Registered users get max 200 minutes per week of free calls.
These are them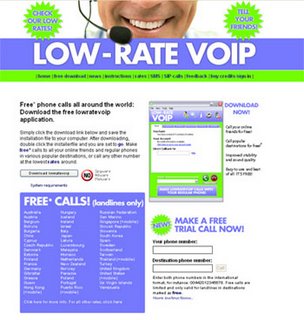 Free Landline calls to Singapore, Serbia And Montenegro, Peru, Poland, Pakistan, Norway, Denmark, Chile, Colombia, Brazil, Bulgaria, Argentina.
Free Calls are available for themembers for the following countries.
Andorra, Australia, Austria, Belgium, Bulgaria, Croatia, Czech Republic, Denmark, France, Finland, Germany, Greece, Hungary, Iceland, Ireland, Israel, Italy, Japan, Jordan, Netherlands, New Zealand, Norway, South Korea, Switzerland
United Kingdom, and many more.
Landline & Mobile free calls to following countries.
Bahamas, Brunei Darussalam, Canada, Hong Kong, Singapore, Thailand, United States and Cyprus.
And South Korea (Mobile), China (Mobile), Bermuda (Mobile).