IPL Cricket Game SMS.
IPL the Indian Premier League cricket matches are played all over the Indian Mega cities where millions of people buy tickets to watch matches at 11 venues in the night with fun filled atmosphere. Foreign cricket players are brought in limited numbers to play for the IPL cricket teams.
The IPL tournament was first played on April 2008. The Next IPL 2013 April 3rd - May 26th.
Earlier the IPL did ran a SMS game prediction program and the IPL had stopped it later after people claimed that the SMS game can encourage betting and gambling on the IPL cricket matches.
SMS alerts on the current IPL matches are available for India mobile phone users only.
To get the alerts via your mobile phone, send SMS IPL to 56644333 from your mobile phone.
Also it is available for your PC to get it click the link below. m.iplt20.com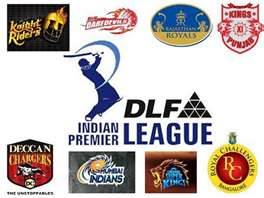 Watch IPL Live.
Apalya Technologies will allow all the Smartphone users to view all the matches of IPL 5 cricket matches live. To use cricket live through 3G Smartphone, subscribers can SMS TV to 58888.
Also you can catch the IPL cricket matches with youtube.com
Get the IPL 2012 Android App for your Smartphone which is named as IPL 5 from the Official Android Market.
iPhone, iPod and iPad App for IPL.
Are you a proud owner of any the Apple products that are mentioned here?
Compatible with iPhone 3GS, iPhone 4, iPhone 4S, iPod touch (3rd generation), iPod touch (4th generation) and iPad. Requires iOS 4.2 or later. So get this official IPLt20 app which provides you all the exclusive content from DLF IPL 2012 News, Features, Interviews, Virtual Replay, Live Scores, Fixtures, Team and player information and all the statistics from the tournament.
And the App is itunes.apple.com
How to watch IPL games Dialog customers in Sri Lanka through Smartphone?
Dialog provides it customers MyTV which allows them to watch live IPL matches in their Smartphone over their GPRS or 3G connection.
Before activate this option check whether your Smartphone can be used for this purpose.
Combatable pdf.
To activate this live TV viewing facility Type MYTV and SMS it to 678.
They will send you mobile application or to subscribe and watch via a mobile web interface.
The IPL is available as premium channel in category 2.
Video on Demand Per Day/Rs. 5.00
If you like www.twitter.com then visit this page
www.facbook.com fan? then go to IPL page here.
IPL Official Web Site