Dialog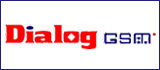 Dialog is the number one mobile phone service provider in Sri Lanka. Their subscribers can send and receive SMS text messages from here or from any part of the world to their loved ones, friends and business contacts. Their phone numbers start with 077. The maximum number of characters per message is 160. If the SMS message receiver's mobile phone is powered off or out of reach due to signal problem, they will be stored in the network and will be delivered when those handsets are switched on or reachable through the network.
Their tariff may differ according to your contract plan with them.
If you are a registered Dialog customer you can send SMS messages from their web site very easily and at low price too. The facility is available only to the D2D customers. By this it is easy to edit and send a single message to many of your friends. Your phone number will be shown as the sender of the text message.
When you get a new cellular phone, have to preset their message centre number in to it which is provided by the Dialog Telekom Ltd.
The message center number is +9477000003.
After reading the manual, you must do this only one time if your hand phone is not receiving messages or if it can't send them.
Enter Menu Mode on your handset
Select MESSAGES
Select WRITE MESSAGES
Select MESSAGES SETTINGS (for some hand phone models if necessary)
Select option for MESSAGE SERVICE CENTRE number or its equivalent
Enter Message Centre Number: +9477000003
Confirm selection.
If you are a Gmail account holder you can send free SMS teaxt messages to the Dialog operated mobile phones for free of charge. The numbers should be in the international format.
Also their customers can access mobile TV, get breaking news through SMS, send and receive MMS, E-channeling and many more.
Here is the link: dialog.lk.