Suntel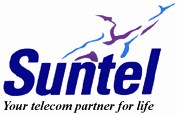 Suntel.
Suntel Limited is one of the popular fixed line providers in Sri Lanka. Now the company is annexed by the Dialog Axita company and it is operated by them. Their CDMA phones are operating through the wireless system and the phone set can be moved place to place. Due to Srilanka law it is illegal to use such a phone in another place other than its originally registered address.It allows the customer to send and receive SMS text messages very easily.
If there is no electricity the CDMA phone will work for certain hours with its battery power and will go off when its batteries are drained of power. The CDMA phones bigger LCD screen has great advantage to read message in it when comparing it to a small mobile phone screen.
When Suntel was operating alone they used to provide free SMS sending and receiving facility through their online website.
Now that website had checnged in to one of the largest online store. Check it here. http://www.wow.lk/.