Lankabell
Lanka Bell is another world-class telecom operator who provides a full range of telecommunication services to businesses and residential customers here. The introduction of the revolutionary low cost CDMA (Code Division Multiple Access) technology, made them to continue expand its modern digital network that currently specializes in Internet, SMS, Data and Voice services.
They are offering a convenient and effective way to send and receive Emails. This is a feature that you can use through their provided phone and service.
You don't need a computer and internet connection to send emails just your CDMA phone will provide you to use this facility.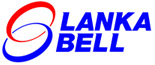 These fixed line handset are operated through the wireless communication towers to send and receive data and voice signals between clients through the main control office. A fully charged phone can operated from any part of the island through the towers where they don't need to have any wire connection. These kinds of phones can send and receive SMS text messages at low price which will be included in the customers monthly bill.
Official web site Lankabellnetlankabell.net.