Mobitel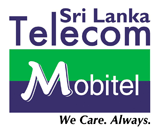 Mobitel was the third mobile operator to enter the mobile telephony market in Sri Lanka.
SLT is the sole owner of Mobitel (Pvt) Limited which offers Island wide mobile coverage to mobitel customers.
This mobile phone service provider mostly caters the Government service providers by providing them with special offers that can't be matched by any of the Islands' service providers. Further more young people are too having faith in their service because of their mobile internet service which is considered as the fastest and cheapest by them.
The SMS service offered by them to the ir customers are at its best.
You can use your Gmail account to send free text messages to any of the Mobitel customer.
Sending SMS and MMS are very cheap through their service.
Also this message service of theirs will allow you to do the following things.
Train ticket reservations
Caller ring back tones
Horoscope of the day.
Make appointment to channel doctor.
News alerts as it happens.
For just $1 you can send nearly 1200 text messages within the network handsets.
Like wise for $1 you may send about 500 of them to mobile phones using other networks.
How to send free SMS using Mobitel. Here.