Get E-mail as SMS on your Mobile Phone.
E-mails can be sent to your mobile phone as SMS text messages from any e-mail account through the internet connected PC or Laptop. Only your carrier's standard SMS charge will apply.
The message will display about 120 characters only, thus a longer e-mail will be broken up into several text messages before it reaches its destination.
There are plenty web sites which are offering you this service when you make an account after joining with them.. Enter your e-mail and mobile phone number, accepts the term and press "GO".
After some minutes you will get an SMS with a 3 Digit verification code, enter it in the web site and click "NEXT". Then enter the password of your e-mail address and click "NEXT".
Enter the contact mail address or import it to the web site to receive mails from them only. This will prevent spam mails. You can get all your contacts mails or selected peoples only by selecting default or use "ON" button next to the contacts mail address.
On the other step you can tell your friends about this service or can skip it. Then click "Done". That's all, your phone is now ready to receive SMS containing your e-mails.
Cutting your SMS text message charge will give a big saving in your monthly bill. Many people all over the world are using this kind of technology to send and receive emails to their mobile phones without spending any money for to connect to the internet through their mobile device to get the available emails to them.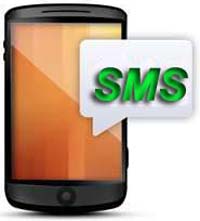 You can find your own mobile phone carrier's SMS Gateways from these links which are available below.
See here one example BPL Mobile phone service in Mumbai, India. number@bplmobile.com
.

SMS Text Messages to
Dialog: (Phone Number without 077)@dialog.lk
Mobitel: +9471(Receiver Number)@sms.mobitel.lk
Etisalat: +9472(Receiver Number)@sms.etisalat.lk.www.tech-faq.com
www.mutube.com
www.notepage.net